Chocolate is good for you! No really, it is. Chocolate, in its purest form contains a host of vitamins, minerals and antioxidants which helps promote a healthy mind and body.
And Coconut itself is a powerhouse of a fruit, packed full of nutrients and healthy fat which can help you lose weight, promote good brain health and keep you energised.
Together, these two super-food ingredients are a powerhouse and can be adopted into your daily diet to help you achieve a balanced, more satisfying healthy life in the form of enjoyable snacks.
What better way of combining the health benefits, than to make your own vegan bounty bar.
Chocolate
But it's not just any chocolate which is good for you. Commercial milk-chocolate has been associated with being high in fat and sugar, and partly responsible for the rise in obesity, acne and heart disease.
Dark chocolate, or rather the cocoa (which is the key active ingredient in chocolate), has plenty of research offering insight into how it is actually considered a superfood.
Dark chocolate has been linked to help reduce the signs of aging, reduce oxidative stress in the body, reduce cholesterol and improve brain health.
Nutrition
A bar of dark chocolate contains the following important nutrients:
Fibre
Iron
Magnesium
Potassium
Zinc
However dark chocolate also contains sugar and can be dense in calories. So, it's best to consume moderately to avoid unwanted consequences while trying to obtain the health benefits of dark chocolate. For example, unwanted weight gain can be an undesirable consequence of overconsumption.
Antioxidants
Studies have shown that dark chocolate contains more antioxidants that most foods.
The same research also suggests the effects of the antioxidants in the cocoa may influence insulin resistance and help reduce the risk of diabetes, help improve the immune response system and protect nerves from inflammation.
Improves Brain Health
It is widely considered cocoa has material positive impact in improving cognition, attention, processing speed and memory.
Cocoa / Dark Chocolate helps provide your body a flow of antioxidants eliminating free radicals which can damage your cells and in turn create inflammation which could negatively affect your brain health.
Cocoa may also help stimulate improved blood flow to the brain, transporting essential nutrients and oxygen that cross the brain-blood barrier.
Coconut
The coconut is a versatile fruit. It provides us with water, oil and coconut meat. And recently, coconut is adorning our smoothies and shakes with coconut milk (or mylk).
Coconut is loaded full of nutrients including copper, manganese an iron. But the key benefit of Coconut is its fat.
Coconut is loaded with fat. And a lot of fat. In fact, per 100g of raw coconut meat contains 33g of fat.
But this fat is formed of medium-chain triglycerides (MCT). MCT or medium chain fats are absorbed more rapidly in your body and used for energy and may in fact help you lose excess body fat.
Not only does MCT help promote weight loss, it can help your brain by providing a steady source of fuel in the form of ketones.
The Recipe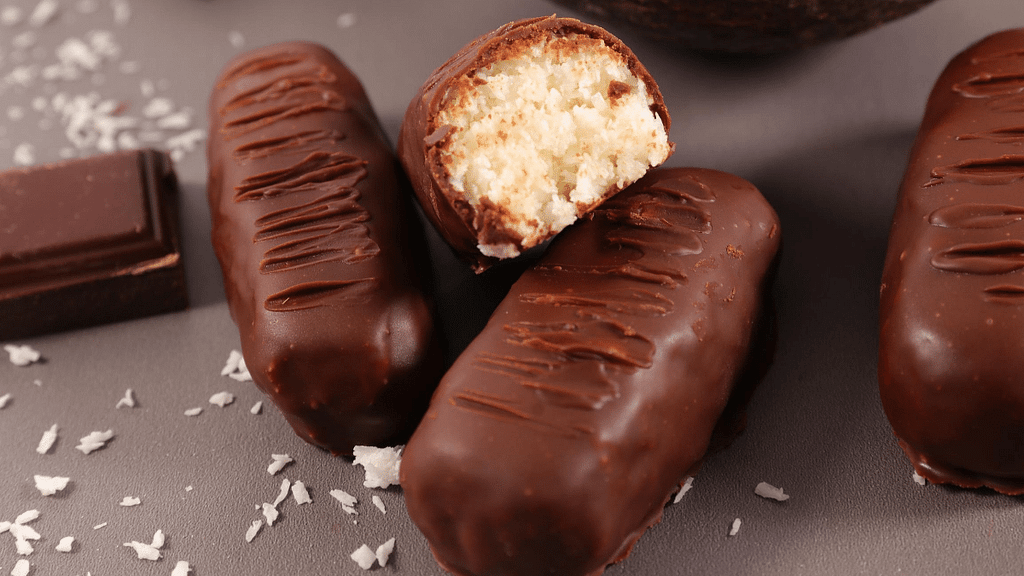 For a Healthy Vegan Chocolate and Coconut Bar (Vegan Bounty Bar), you will need:
Ingredients
200g Desiccated Coconut*
200g of 70% pure Dark Chocolate (make sure its organic and vegan)*
1 cup Coconut Milk
3 tablespoons of Coconut Oil
4 tablespoons of Maple Syrup*
1/2 teaspoon of Vanilla Extract
1/16 salt (a pinch)
*Desiccated Coconut: this is also known as shredded coconut. It has a dry and finely shredded appearance, usually available in packs at your local supermarket or health food store.
*Maple Syrup: Some may recommend using Honey. Whether honey is a vegan food product is controversial. In the strict sense of the word, it is not an animal product. However, many vegans avoid honey as it comes from the exploitation of bees, while others who are adopting a plant-based diet may still wish to add. Suitable alternatives for honey include Maple Syrup and Date Syrup.
*Chocolate: As one of the crucial ingredients, the quality of the chocolate is essential. Try going for as pure of a dark chocolate possible, upward of 70% and aim to find a vegan option. You should be able to find this in any large supermarket or health food store in your country.
Directions
This is a fairly simple recipe guide to make a healthy coconut and chocolate, and vegan, bounty bar at home.
On low heat, mix the coconut milk, maple syrup/honey, vanilla extract and coconut oil in a pan
Add the desiccated coconut into this mix,
Once mixed, place onto a baking tray and flatten the mixture with your hands, while keeping the thickness at around 1 inch.
Place this flatted mixture in the freezer for 30 mins, before taking out and cutting into rectangular shapes
Melt the dark chocolate
In the bowl of melted dark chocolate, dip the coconut pieces you just cut – to the point they are fully covered in chocolate
Repeat until all pieces are covered in chocolate, and when they are – let them settle in the fridge for 15 to 20 minutes