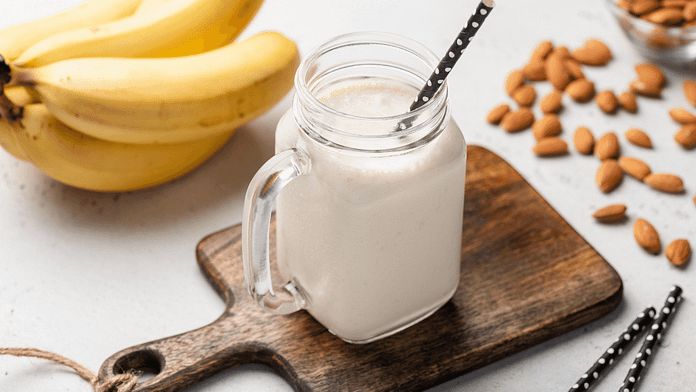 What better way to enjoy the benefits of Coconut Oil than in a tasty and nutritionally balanced high-protein vegan smoothie?
Coconut
Coconut is loaded with MCT fat. In fact, per 100g of raw coconut meat contains 33g of fat.
MCT or medium chain fats are absorbed more rapidly in your body and used for energy and may in fact help you lose excess body fat. 
Not only does MCT help promote weight loss, it can help your brain by providing a steady source of fuel in the form of ketones. 
Coconut Oil is also known to have several skin and hair health benefits including:
Reducing Inflammation
Treating Acne
Moisturising Skin
Potentially helping with Hair Growth
Recipe
What you'll need
1 Banana
1 Tablespoon of Coconut Oil (Virgin)
1/4 Cup of Mylk (Coconut, Almond or Oat – your choosing)
3/4 Cup of Water
1 Scoop of Vegan Vanilla Protein Powder
1 Tablespoon of Almond Butter
Directions
This is a fairly simple smoothie to make. Just blend all the ingredients into a blender for 30-40 seconds until it becomes consistent and pour into a glass to enjoy.
For added benefits, add a tea spoon of Flaxseed or Chia Seeds to take the benefits of these super-nutrients.