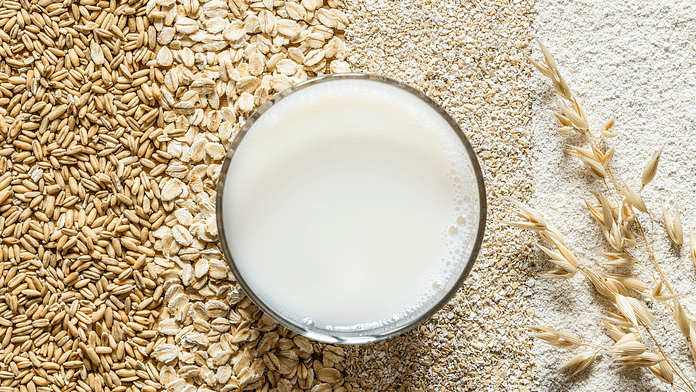 We're all used to Oats in our diet. Whether in protein balls or protein bars, or for the typical breakfast with banana's, adding them into your diet can also be beneficial to both, your body and skin.
They are a great source of nutrients and fibre and include a lot of significant vitamins and minerals that our bodies need such as; iron, copper, magnesium, zinc, phosphorus, and vitamin B.
This will help with reducing blood pressure, cholesterol, blood sugar levels and will help grow good bacteria within the digestive system (source).
But eating oats also have benefits for the skin. If you tend to have puffy eyes in the mornings, or dark eye bags, consuming oats in the morning can have an impact in reducing this.
This is because oats play a big part in easing your bowel movement and digestive system which is often a cause of puffy eyes. Oats contain a significant amount of fibre, which plays a large role in managing your digestive health.
Oats are a whole grain food which have many health benefits for the body and skin as they are loaded with vitamins, minerals and antioxidants.
But, Oats have benefits not just when consumed internally, but also when applied externally.
Colloidal oatmeal, made from finely ground oats, is available in powder form or as a cream available from most grocery stores but you can also make it yourself and apply externally.
How to make colloidal oatmeal
You can also make it yourself by:
Putting one cup of oatmeal into a blender and grinding it into a fine powder
Then take a tablespoon of it and mix it into a glass of warm water
The oats will then absorb into the water and the liquid should turn milky and smooth If they don't, continue to keep grinding and blending them until they do (source).
A common way to use colloidal oats is by having a colloidal oatmeal bath. This is usually done to help relieve the body of eczema, psoriasis, rosacea and other skin conditions. However, it can also be applied just to the face by applying the powder and water mixture directly to the skin.
Although oats have many health benefitting qualities, how exactly does it benefit the skin?
Oats are Moisturising
Oats are known for their moisturising qualities as they form a protective barrier that retains water in the skin. This keeps the skin hydrated and nourished, and helps fight against any dryness or roughness you may have.
Make your own Oat Moisturiser
You can make your own oat moisturiser by grinding the oats down into a fine powder and add it into some coconut oil, which is a hydrating natural oil known for its skin benefits. You can also add other oils into this such as a few drops of rosemary oil which provides an antibacterial surface for the skin.
Combined together, your skin will be left moisturised and hydrated (source).
Oats are good for Exfoliation
Oats are a good gentle exfoliator for the skin as they remove dead skin cells, making your skin and complexion a lot smoother and brighter.
As oats contain flavonoids that absorb damaging ultraviolet-A rays, they protect the skin from harsh pollutants and chemicals (source).  
Make your own Oat Exfoliator
You can easily make your own oat-based exfoliant scrub by mixing ground oats with honey and brown sugar.
This is beneficial for the skin as honey is a great natural cleanser that also helps to prevent future breakouts.
Brown sugar is also a good natural exfoliant and is known to be very hydrating for the skin.
So, combining these ingredients together will create a healthy, nourishing exfoliating scrub (source). 
If you want to add a couple of drops of coconut oil or rosemary oil in, you can.
Oats can reduce Inflammation
Due to the protective barrier oats create on the skin, they can help ease itchiness and inflammation.
Oatmeal helps to neutralise the skin's pH levels which is one of the main causes of inflammation.
Therefore, oatmeal would help to soften the skin and soothe it.
Oats are a known source of protein, which stimulates production of collagen and can also helps relieve inflammation, irritation and redness on the skin. Stimulating collagen is also important for keeping the skin hydrated and moisturised.
Oats also contain Zinc which is helpful in combatting inflammation.
Oats may help fight Acne
As oats contain zinc, they can also be used to help battle acne.
The main cause of acne is when the skin has a build up of oil and bacteria. Zinc is important to fight this as it soaks up excess oil as well as regulating cell production. This also prevents our pores from clogging.
Make your own Oat and Turmeric facemask
You can make your own facemask containing oats and turmeric as turmeric is also extremely beneficial when treating acne or breakouts. Due to its antibacterial properties, it reduces the appearance of acne, scarring as well as balancing out the oils on the skin.
All you need to do is:
Grind half a cup of oats and one and a half tablespoons of turmeric in a blender
Add in 2 tablespoons of coconut oil and approximately half a cup of water until it is a thick consistency. 
You can then apply this directly onto your skin as a facemask and leave it on for 10 to 20 minutes. Rinse off with warm water.
Oat Cleanser
Oats are deeply cleansing for the skin, as their antioxidants ensure that the skin is clear of clogged pores, excess oil and dirt.
They also contain saponins which contain properties that protect the body and skin from bacteria and viruses; hence oats can be used as a natural cleanser (source). 
You can use this as a natural cleanser or toner and can be made simply by grinding oats and mixing them with warm water. This can be applied directly to the skin with a cotton pad.
Summary
Before you begin to use oats on your skin, you need to understand your skin and its textures, so you can incorporate the oats into your skincare regime accordingly.
After trying it out, you can also see how quickly and significantly it is impacting your skin and therefore decide how often you want to apply it to your skin. This could be on a daily or weekly basis, or you can use them 2-3 times a week for quicker results.